Hi guys! as usual I share some of the activities I prepare for my kids @ school! 
Hope they are useful! 
Grammar - Present Perfect -Â FOR / SINCE -
Talking about present activities that started in the past
1) Look at the chart.
| | |
| --- | --- |
| Present Perfect |  for / since  |
| U2 has been successful | for more than 30 years. |
| BONO has tried to help Africa | since 2002. |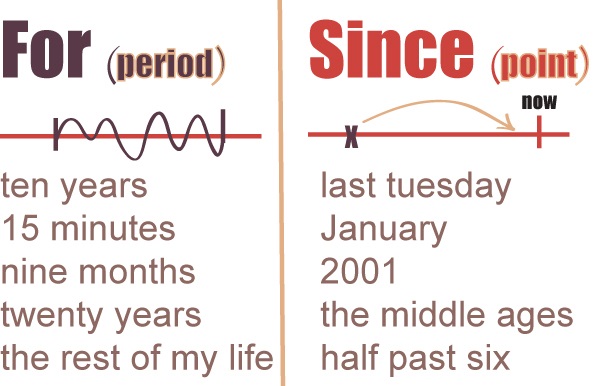 Take note!

for and since

• We use for to talk about a period of time up to the present.
 for twelve years, for three months, for two days, etc.

• We use since to talk about a point of time in the past.
since 1995, since last year, since she was ten, etc.


2) Â Circle for or since.

1 Bono has been a rock star for / since 30 years.
2 Charity rock concerts have been popular for / since the 1960s.
3 I've campaigned against world poverty for / since 2008.
4 Sam has been in a band for / since four years.
5 I've known about Bono for / since I was a child.
6 Isabel has had her own company for / since three years.



3) Write sentences with for and since.
1 Mel / live / New York / 2003Â 
2 She / be / a doctor / two years
3 She / have / a dog / five years  

4 She / live / in her house / last summer
5 She / do karate / six months
6 She / write / a blog / March

4) Over to you! Â 

Think of three activities you do. Use for or since, and tell the class how long you've done these activities. Can the class guess the activities?

Student A: My clue is: for six years.
Student B: Have you been a student at this school for six years?
Student A: No, I haven't.
Student B: Have you been on the field hockey team for six years?
Student A: That's right! Your turn.
5) Now fill the gaps with FOR or SINCE:

I have been living in New York __________  1 year 
I haven't seen you __________  a week 
I have been waiting __________ 12:30. 
I've lived here __________  5 years. 
I've lived here   __________ 2003 
__________  she came here I've been very nervous 
She has been married __________  ten years 
She has been a doctor __________Â Â 1998Â 
He has been studying English __________ 12.00
I have been living in Valencia __________  last june 
I haven't seen you __________  last week 
Yesterday I studied __________  three hours 
She has been studying English __________   two months 
She has been studying English __________  last January 
She has been studying English __________  your birthday 

He has been studying English __________ two hours 
She has been studying English __________  six minutes 
She has been studying English __________  a long time 
I've been working here __________  the last two years. 
I have loved you __________Â Â the first time I saw you